Yes it is, and in celebration of all things literary I thought I'd share some of my favourite books. Please do add your favourites in the comments; I'm always on the lookout for a good read!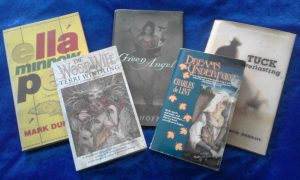 Dreams Underfoot by Charles de Lint. Anything by Charles de Lint really, he's exceptionally talented, but this particular one is a collection of urban fantasy short stories and is my go to book for comfort when I'm feeling in need.
Green Angel by Alice Hoffman. She writes exquisitely and this novella is particularly haunting.
The Wood Wife by Terri Windling. Full of extraordinary desert magic, you can almost feel the heat rising from the pages. I love this so much I have two copies (one for lending, the other for me!)
Tuck Everlasting by Natalie Babbitt. This is a children's book but don't let that stop you; the lyrical prose and intriguing story will leave you thinking.
Ella Minnow Pea by Mark Dunn. You will never take the letters of the alphabet for granted again.
Skellig by David Almond. A beautifully wrought modern fairy tale.
The Miracles of Santo Fico by D. L. Smith. Funny, unexpected and uplifting.
The Secret Life Of Bees by Sue Monk Kidd. Set in South Carolina in the sixties, it's a sensitive coming of age tale.
Julie And Romeo by Jeanne Ray. A romance like no other and very funny to boot.
Anne of Green Gables by L. M. Montgomery. I adored this when I was a kid and still do now.
Guess I'd better stop now. There are just so many great books out there; happy reading!