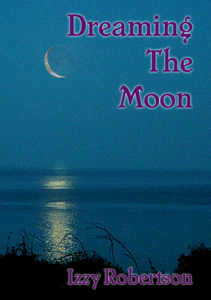 I am delighted and very excited to say that my first novel, Dreaming the Moon, will be coming out in paperback on 25th August 2014. The fantastic cover photograph was taken by the very talented Alex Smith (thank you so much) and formatted by the amazing web wizard, Simon West (again, thank you).
It's a modern fantasy that follows Robyn, heartbroken and haunted by strange dreams, who discovers that this world is not the only one, but is separated from another magical realm by a protective shield that is failing. Thrown into a desperate situation, she and her friends are pitted against time and dark forces in a seemingly impossible task, the search for a lost fragment that will restore the shield and save both worlds.
If you like to look at life a little sideways, if you ask yourself sometimes 'Was that only a bird rustling in the hedge or was it something else?', or 'Did I misplace my keys or is something otherworldly teasing me?'; If you've ever thought that the woods seem darker than they should when you're walking alone at dusk, or wondered if it was just coincidence that you called your best friend at exactly the same time as he/she called you, then I hope that this will appeal to you. And if you're not familiar with my work, may I (very cheekily) say that I have two 'snack-size' stories out as e-books: When Joe Met Alice and Catching Up With The Past, available from Magic Oxygen and Amazon, just in case you fancy an appetiser.
Izzy
Izzy.