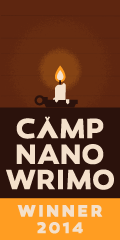 In April I was gently coerced (is that possible?) by the newest group of characters that had wandered into my head into starting another novel. They had very kindly presented themselves just in time for Camp NaNo, which is another writing month run by the organisers of NaNoWriMo (National Novel Writing Month).
Having successfully completed a novel last November, I decided to aim for the same target as then, i.e. 50,000 words, although in April (and July) you can set your own target and work on any writing project you like, non-fiction, plays, short stories etc.
I am feeling quite proud and a little smug at the moment because I DID IT, with the support, of course, of family and friends (thank you!) and an industrial sized amount of chocolate. Although the novel is not quite finished, it's great to have the structure in place and the bulk of it written, even if it is only a first draft.
So Camp NaNo, I thank you, as do my characters Serena, Seth, Tallie, Ethan, Gaia and Great Aunt Rose. They are most grateful that I haven't made them wait for eight years like Robyn, Bryn and Holly (my November characters) had to!
Izzy.