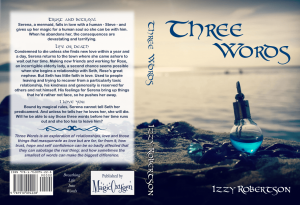 On 14th February 2017 my second book will be making its way into the big wide world. It took me two years to write Three Words and get it to the point where I was happy to submit it to my publishers, Magic Oxygen. They've also put a lot of time, effort and love into it, from the editing to the amazing cover photography and much more besides. A big thank you is due.
It's a romance at heart, exploring love and those things that pretend to be love but are very far from it; possessiveness, manipulation, guilt etc. It also encompasses love and relationships in the wider sense of friendship and family.
And of course there's a magical element – because how could there not be? It's very (and I do mean VERY) loosely based on The Little Mermaid, but the fairy tale rather than the film.
If you want to read the blurb on the back cover, click on the picture above. For now, here's an excerpt to hopefully whet your appetite.
Tia and Serena left the cavern and swam through the wild ocean in silence, overawed. Tia was the first to speak.
"Did it hurt?" she asked. "When you gave up your magic?"
"A little," Serena said. "I feel empty now, hollow. Room for a soul, no doubt."
"Are you afraid?" Tia's eyes were worried.
"Yes," Serena confessed. "But I know this is the right thing to do. The only thing to do, for me. I'll never meet the expectations of the mer, I'll always be found wanting. At least this way I have a chance. I know you understand."
"I will miss you," said Tia.
"And I you," Serena replied. "But I will always remember, all of you but especially you, Tia. I think you're the only one that's really ever understood me. Don't think that some of the love I hope to find over there won't be held for you."
Tia said nothing but she didn't have to. The crystal tears that slipped from her eyes told their own tale.