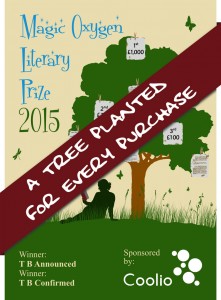 On Valentine's Day I will be in the auspicious company of six other authors and our wonderful publishers Tracey and Simon West , for the official release of our books plus the Magic Oxygen Literary Prize Anthology 2015.
There will be a 'Meet the Author' event at the Hub in Lyme Regis, as part of the Lyme Regis Literary Festival, where you can come and chat to Max Brandt, James Dunford-Wood, Sue Hampton, Chris Hill, Rob Windsor, Gordon Strong and me, and have a look at our books (an eclectic mix catering for all tastes!)
Following that will be the announcement of the winners of the Magic Oxygen Literary Prize. This new and ground breaking competition with two categories (short stories and poems) planted a tree for every entrant in the competition (800 trees so far). The winning and shortlisted entries are included in the anthology, and another tree will be planted for each copy sold – and having been lucky enough to be on the judging panel for the Prize, I can assure you that this is not a book you want to miss! Brilliant stories and poems all, they will make you smile, weep and gasp.
The event will be starting at 11 a.m. For more details, go to  http://www.magicoxygen.co.uk/contact/   and drop the team a line. Keep an eye on their website too. Hope to see you there.