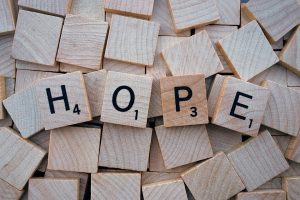 I wrote this poem around the end of 2015/beginning of 2016 and last Saturday night I read it out as part of the performance poetry entertainment at the Magic Oxygen Literary Prize Awards Ceremony. I was touched and humbled when several people came up to me to say that they enjoyed it and how much they related to the emotional journey it portrays. They asked me if it was published! They also told me that they thought other people might find it helpful.
With that in mind I am putting it on here. Please feel free to share it if you want to. Wishing you all much love and light.
FALSE FRIENDS AND TRUE
My friend Paranoia came round the other day
I hadn't seen him for a while; he said he'd been away.
My new friends Joy and Self-esteem don't like him at all
They say I change when he's about, I'm at his beck and call.
Anyway, he asked me if I would let him stay
He'd nowhere else to go, he said, he'd not get in my way.
I said no to start with. He said I was a grouch.
How could I just let him sleep on someone else's couch?
"It's only for a little while," he wheedled with a grin
I felt my resolve crumble: should I let him in?
I recalled last time he said this, and I let him stay
A few days turned to months and months, he wouldn't go away.
So I said no again and then he stormed off in a huff
Self-esteem was proud of me. "I knew you'd had enough."
Then Paranoia played his trump. He sent his best friend Guilt,
To plead his case, and at her words I couldn't help but wilt.
"How can you be so mean?" she asked. "He's always stuck by you.
He's never, ever let you down, it's the least that you can do."
I can deal with Paranoia, but Guilt is hard to fight.
I gave in; he came to stay, but only for the night.
Supposedly…
Because when Paranoia's there, Guilt hangs around as well,
And she brings along Self-loathing, who is as mean as hell.
The three of them get really loud and they give me no peace.
Then I can't hear anything else and there is no release.
I realise I see less and less of Joy and Self-esteem
They pop in every now and then but I hardly know they've been.
Paranoia said that it's because they never really liked me
They pretended, to be kind, but they're better off without me.
Self-loathing told me that I am a really crappy friend.
"You're lucky we put up with you, don't bother to pretend
You're doing us a favour by giving us house room.
No one else would bother with a nasty girl like you."
"Yes, you're lucky," Guilt agreed. Her voice held quiet danger.
"We won't desert you, leave you alone, let you become a stranger.
Another friend is moving in, don't bother with your protests,
Because she's been here all along and you haven't even noticed."
It was true; when I looked, Fear was curled up in the armchair.
I knew I couldn't shift her now that she was settled there.
I wondered how she'd got in; through the back door, I suppose.
No matter how I try it seems impossible to close.
So now I was just overwhelmed and there was no escape,
I could only stand and watch my world disintegrate.
The four of them joined forces to wear away at me,
And together they are surely a formidable enemy.
Helpless before the onslaught I retreated to my room,
Curled small beneath the bedclothes amidst the deepening gloom.
It was then I heard it; a whisper through the air
So faint and yet I hadn't just imagined it was there.
I couldn't help but follow the almost silent call
It made me walk across the room to the mirror on the wall.
It was then that I saw Hope beside me standing strong.
I'd been so blind but now I knew he'd been there all along.
Somehow I'd forgotten Hope but he didn't seem to mind.
He very gently took my hand, his touch so warm and kind.
Hope had not forsaken me but he has a quiet voice
And I just had not heard it over all the other noise.
I realised I felt calmer, more than I had in days
I knew that Hope would help me in so many different ways.
"We're still here," he told me, "Joy, Self-esteem and I.
But it's hard to reach you when you're with those other guys."
"I'm sorry," I said sadly, as I began to weep
"But I just don't know what to do, I'm in far too deep."
"You can let us help you to find your strength again."
Hope was reassuring; I knew he saw my pain.
I let him lead me down the stairs and through the noisy four,
They didn't like that he was there; I tailed him to the door.
"Open it," he told me, "I've got you a surprise."
Joy and Self-esteem were waiting on the other side.
"It's really good to see you." Words came with an embrace.
"Now let's get this lot sorted out, and give you back your space."
Paranoia grumbled as he left, Self-loathing raged and ranted,
Fear screamed and whimpered as she was forcibly decanted.
Guilt was the hardest one to shift; she went eventually.
"OK, I'm off for now," she smirked, "but look, I've kept your key."
Self-esteem just laughed at her. "The locks will all be changed.
She has true friends around her now, and you should be ashamed."
Guilt was dawdling on the path; Hope turned me to the room
To Joy and Trust and Happiness and Love and Light and Truth.
Self-esteem brought Confidence, quiet and assured
And Gratitude is also here, helping me applaud.
So next time Paranoia knocks, I'll have the strength to fight.
Next time I will be saying no. I'm claiming back my life.