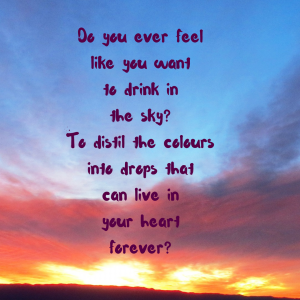 Once there was a girl who had a rainbow heart.
It called to the sunrise, lavender and soft rose birthing a new day.
It soared in the shocking blue of a clear summer sky.
It drifted with the cirrus and the cumulus and roared with the steel grey storm clouds.
It remembered whirling snowflakes and floating mist, heavy raindrops and gentle breezes.
It danced as low mellow light fell through branches and turned fallen beech leaves into rivers of molten copper.
When the sun gilded the horizon with gold, it sang.
It inhaled the sunset, the deep reds and oranges lasting only a few moments before the cloak of twilight hid them away.
It slumbered beneath the indigo night and dreamt of stars.
Wouldn't you like one? A heart like hers?