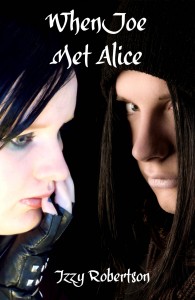 I can hardly believe that it's almost a year since my first short e-book 'When Joe Met Alice' was published and appeared on digital shelves in virtual bookstores across the web. I still remember the sheer excitement of seeing the story I had written out there in the public domain; thrilling and scary at the same time. But it certainly spurred me on and the characters for other tales have been kind enough to wander into my head and say hi. They've kept me busy and have resulted in one novel that will be coming out early next year and another that is still a work in progress. Magic Oxygen have also published my second short e-book 'Catching Up With the Past'. All in all, a fairly eventful twelve months on the literary front.
So, how to celebrate? Well, I am lucky to have a creative family and both my sons are very into music; playing, writing and listening. I was talking to Jed (older son, 16) about song writing and asked if he'd ever consider writing music for an existing set of lyrics. When he said yes, I asked him if he would write something for the lyrics at the end of 'When Joe Met Alice' and he agreed.
He's been working away at it for some time now; writing the music, then sequencing the drum track and recording the keyboards, bass, rhythm and lead guitars and vocals (all of which he played/sang himself). Called Truth Won't Die, it's almost finished and you will be able to listen to it from a link here a little closer to Halloween. I'm as excited about this as I was when the story came out.
So watch this space, and perhaps if you're wondering why Halloween is relevant, you might like to pop over to the Magic Oxygen shop to get your copy of "When Joe Met Alice". And while you're there, check out the other fantastic titles they have.