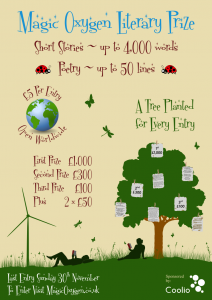 Magic Oxygen, as you will be aware if you have clicked on 'My Publisher' at the top of this page, are the wonderful people who have published my books. But unless you have visited their website you may not be aware that they take pride in having a much fairer and greener ethos than most other companies out there. And they are very keen on encouraging creativity, wordplay and storytelling (most usually accompanied by a lovely cup of tea and some biscuits.)
This is why in June this year they launched the Magic Oxygen Literary Prize, a competition with two categories, short stories up to 4000 words and poems up to 50 lines. Each category carries a first prize of £1000, with a second prize of £300, a third prize of £100 and two highly commended prizes of £50. All the winning entries will be published in an anthology. Not only that but, true to their ethics, they have pledged to plant a tree for every entry they receive, to create the Magic Oxygen Word Forest.
It's only £5 to enter and is open worldwide to anyone over 16. And it doesn't close until 30th November 2014. So pick up your pens and get writing. Get your entry in! You've got nothing to lose and everything potentially to gain and what's the very worst that could happen? You'll have helped to grow not just a tree but the amazing and wonderful art of words.
For more details about the Magic Oxygen Literary Prize and further information about the Word Forest, go to http://www.magicoxygen.co.uk/competition/
Good luck!
Izzy.