January – it's not the easiest month and sometimes it seems to go on far longer than it should. But it's a beginning, one of many, and they should always be celebrated. So here's a little poem and may we meet ourselves and each other along the road.
In his deepest winterness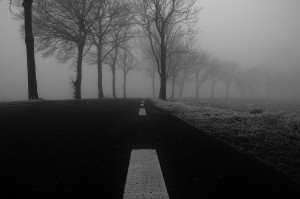 When the dark was no longer
Velvet snug
But a black yawning void
He realised that he
Had lost himself somewhere
And being too tired to search
And too listless to care
He went out
Into the dank mist
And the sad rain
Walking
Wishing that he could just
Go away
Or perhaps meet himself
On the road, coming back.
Izzy.